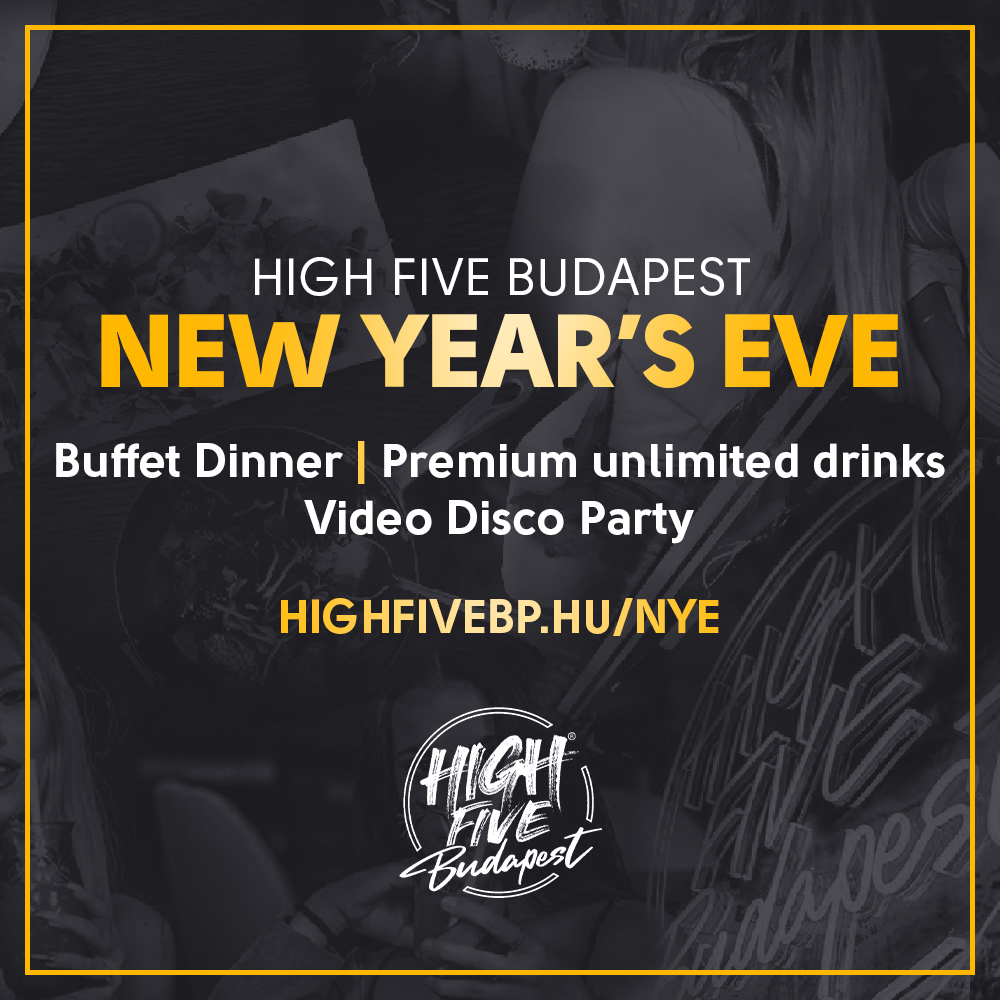 NYE Party & Buffet Dinner with unlimited premium drinks in High Five Budapest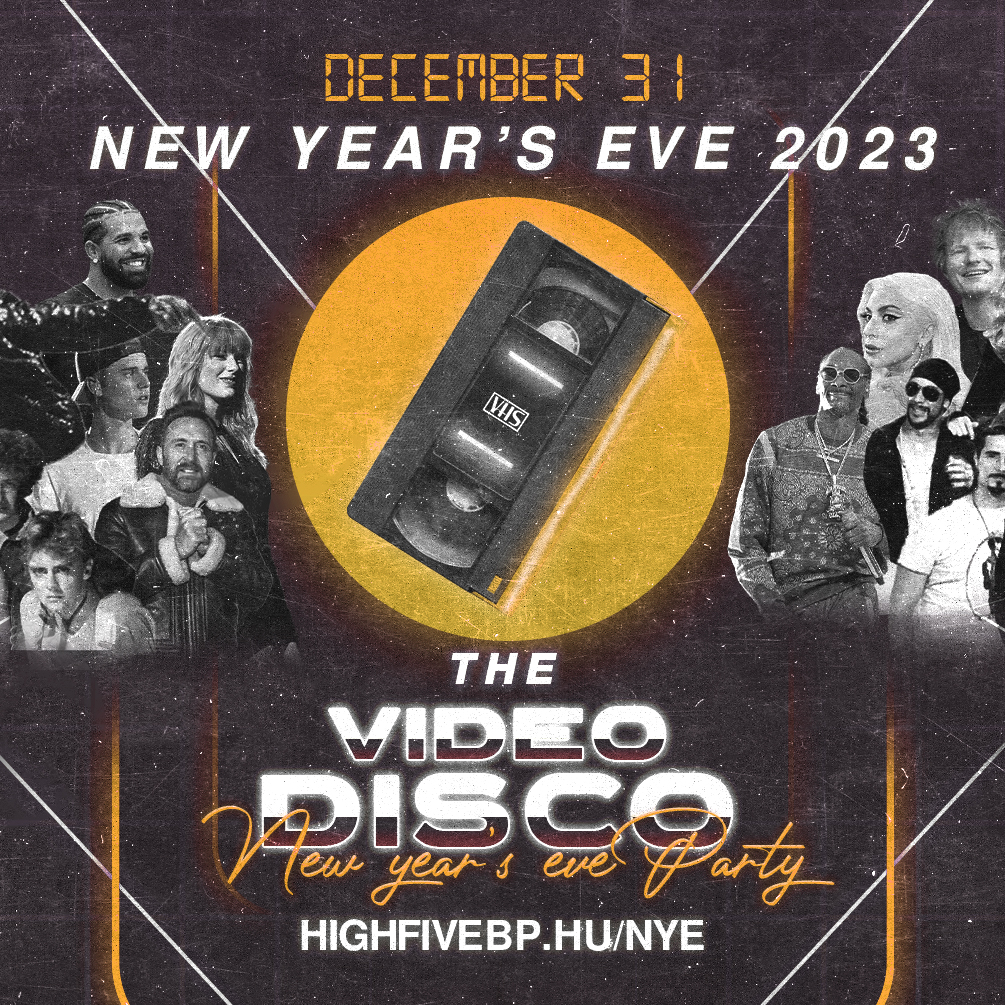 NYE Party in High Five Budapest with Welcome Drink

NYE Party & Buffet Dinner with unlimited premium drinks in High Five Budapest
Be a part of one of the best New Year's Eve programs in the city center in the neighborhood of Gozsdu Udvar. High Five Budapest is waiting again this year with a buffet dinner, unlimited premium drinks and a huge party on two dance floors at Király utca 15.
The purchase of a dinner ticket ensures unlimited consumption of our dishes made from quality ingredients served on the buffet table, as well as our premium drinks.
The dinner ticket is valid from 19:00 to 23:00, after which the usual wild New Year's Eve VHS Video Disco Party starts with the biggest house party music of the '80s, '90s and 2000s and today on 2 dance floors .
The prices are per head!
After purchasing the dinner tickets, please write in an email message – indicating the ticket identifiers – how many people and with whom you would like to sit at the same table. We can only fulfill the requirements related to the assembly in this case. We welcome your email to this address: info@highfivebp.hu
High Five Budapest's uniquely designed BistroPub in the downtown party district awaits you on New Year's Eve, where you are guaranteed to have a good time on several hundred square meters and two dance floors. Delicious quality food, vegan, dairy-free and gluten-free options, premium drinks and High Five's special BistroPub atmosphere will make the start of your 2024 year unforgettable.
In view of the great interest, please get your tickets as soon as possible!
We look forward to seeing you all!
HIGH FIVE BUDAPEST'S NEW YEAR'S EVE MENU
Beef tartar  10
Tapas bar: tuna cream – humus – red lentil cream – garlic shrimps – pita 1, 2, 4, 11, 14
Forest mushroom soup – dried mushrooms (vegan)
French onion soup, croutons, Emmental cheese   1, 7
Cheese platter, seeds, fruits    7, 8
Roasted pork belly – cabbage with champagne – charred potatoes
Deer stew, dumpling, pickles    1, 3, 10
Ossobucco – polenta cream with goat cheese   7, 9
Salmon steak – beetroot risotto   4, 7
Traditional Lentil stew – falafel (vegan)/ hot dog   1, 6, 11
White chocolate mousse – strawberry pürée – golden strawberry   7
Sour cherry – poppy seed dough – prosecco zabaglione   1, 3, 7, 8
Fruit plate
HIGH FIVE BUDAPEST'S NEW YEAR'S EVE DRINKS
Welcome Drink: Sauska Brut or apple juice or mineral water
Draft beer: Peroni, HB Weisbeer
Wines: Dubicz Irsai Olivér, Pátzay Rizling, Pátzay Tégladomb, Pátzay Rose, Bodri Merlot, Vylyan Cabernet Sauvignon.
Spirits: Absolut Elyx, Threesixty, Beefeater Crown Jewel, Bumbu Original, Unicum, Jägermeister, The Deacon, Márkházi pálinkák.
You can order them as long drink too.
Cocktails: Mojito, Hugo, Aperol Spritz
Coffees, teas, lemonades, soft drinks
1. glutén/ gluten 2. rákfélék/ shrimp 3. tojás/ egg 4. hal/ fish 5. földimogyoró/ peanut 6. szójabab/ soy bean 7. tej/ milk 8. diófélék/ nuts 9. zeller/ celery 10. mustár/ mustard 11. szezámmag/ sesame seed 12. kén-dioxid/ sulfur dioxide 13. csillagfürt/ bluebonnet 14. puhatestűek/ mollusks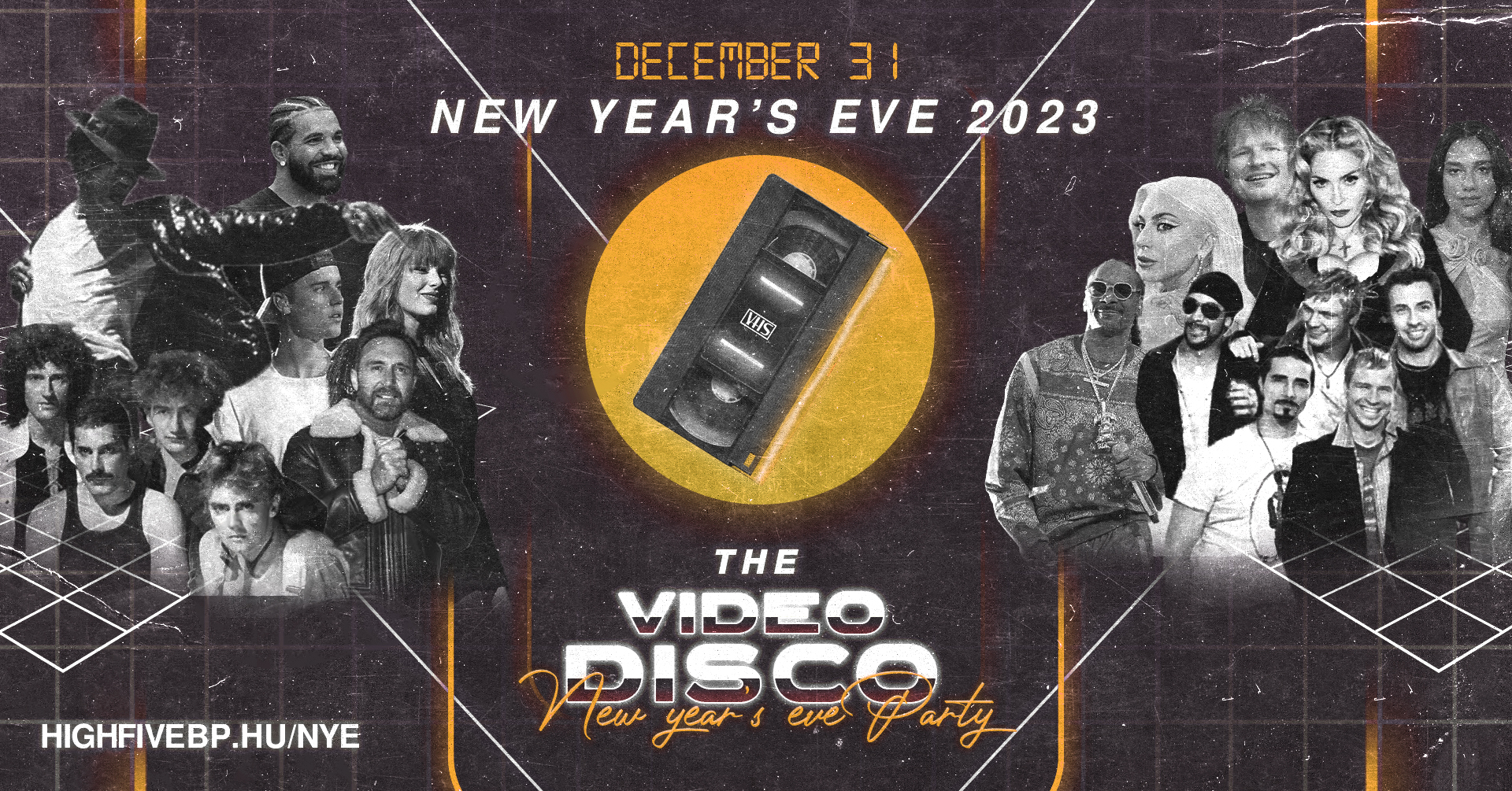 NYE Party in High Five Budapest with Welcome Drink
VHS Video Disco is the country's largest New Year's Eve video disco party. High Five in Budapest guarantees a frenetic atmosphere in 2 dance floors with the 80s, 90s, 2000s and today's biggest house party music again this year on Király utca next to Gozsdu Udvar. in 15
At our music and dance party, you will not only hear the hits, but you will also see the video clips of the songs in extra premium quality, and this is how we will party the evening into 2024.
You will love this for sure!
Start: 23:00
Entry:
Early Bird ticket: HUF 5,000
Standard ticket: HUF 10,000
Which includes a welcome drink until arrival at 23:30.
VJ: PressPlay – The VideoDisco
In view of the great interest, please get your tickets as soon as possible!
We look forward to seeing you all!
The ticket cannot be refunded after purchase.
High Five Budapest
1075 Budapest, Király utca 15.
How to get there: If you come to us on foot, you can easily find us within a 5-minute walk from Deák Ferenc tér. High Five Budapest is located right next to the Király Street entrance of the GOZSDU courtyard.
Parking: If you come to us by car, you can park in the nearby parking garages or on the street.
Infoline:
Email: info@highfivebp.hu
Tel: +36-30-010-4852